On May 12, 2023, the Confucius Institute at Yeditepe University in Türkiye held an online lecture titled "Retrospect and Prospects of China's Public Pension Pension System." The lecture was delivered by Assistant Professor Lyu Youji from the School of Economics at Nankai University. Approximately 40 participants, including Ebru Ilter Acarcay, the Turkish Director of the Confucius Institute, Zhang Huijing, the Chinese Director, Li Weili, the Deputy Turkish Director and teacher at the Confucius Institute, as well as students and faculty from both local and foreign universities, attended the lecture.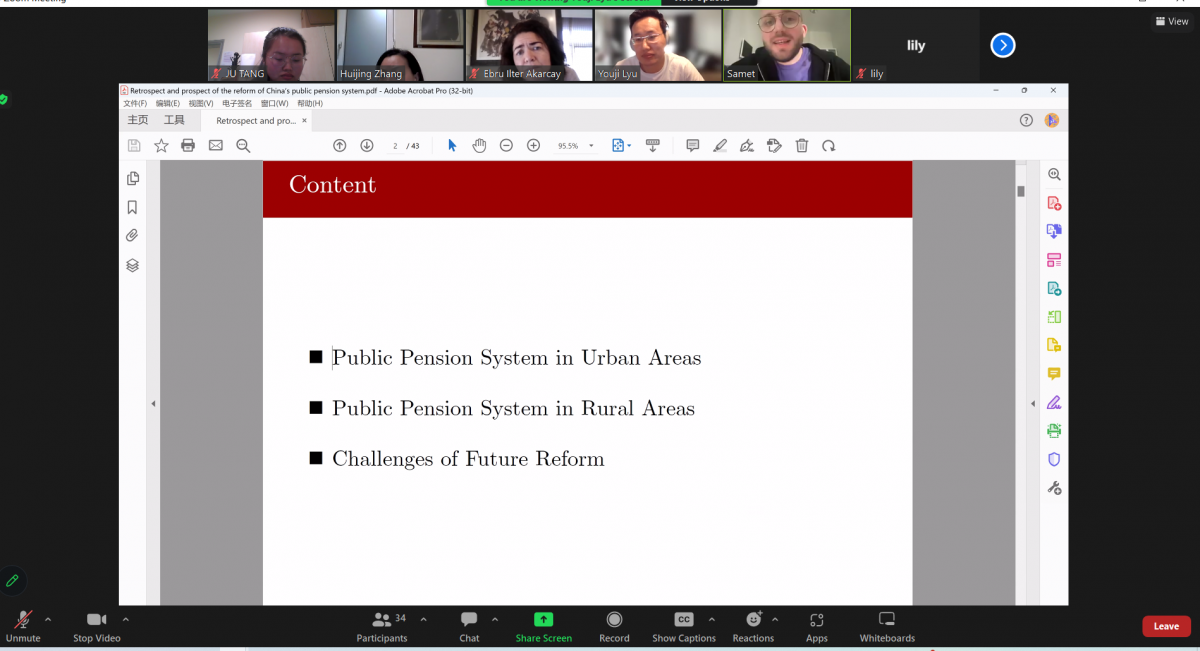 Professor Lyu Youji provided an introduction and explanation of the reform process and future prospects of China's Pension Insurance System, focusing on three aspects: the Urban Pension System, the Rural Pension System, and the challenges that lie ahead.
To begin, Professor Lyu gave a historical overview of the establishment, development, and reform of China's Urban Pension Insurance System. The Urban Pension Insurance System in China comprises three main types: Urban Employee Pension Insurance, Occupational Pension Insurance, and Urban Resident Pension Insurance.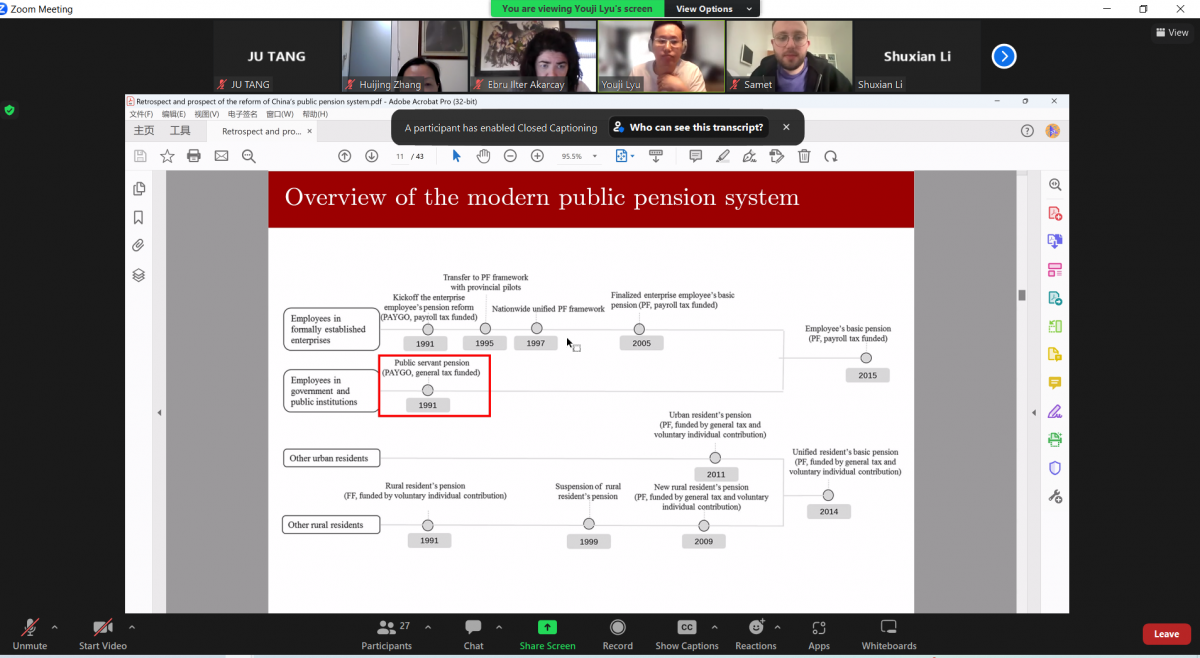 Subsequently, Professor Lyu briefly reviewed the "Five Guarantees" System in rural areas and the establishment, development, and evolution of the Basic Rural Pension Insurance. He mentioned that both urban and rural basic pension insurances have been merged into a unified Urban-rural Resident Pension Insurance since 2015. Professor Lyu concluded by presenting data to demonstrate the increasing coverage and overall scale of the New Urban-rural Resident Pension Insurance since 2015.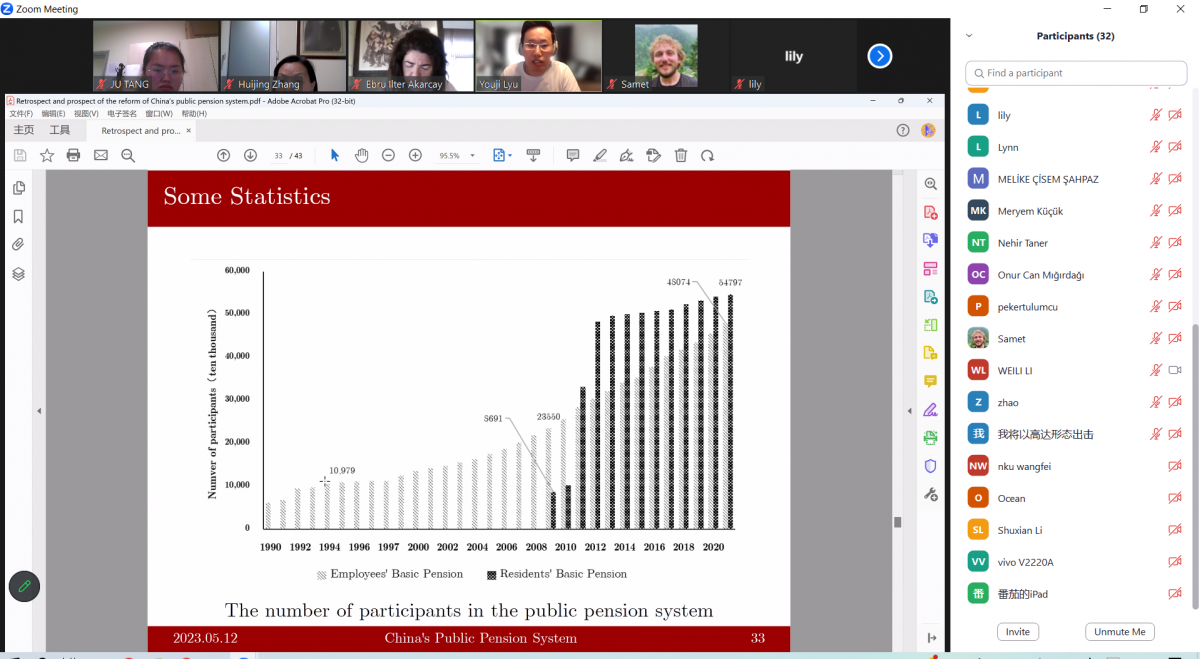 Finally, Professor Lyu discussed the challenges that China's Pension Insurance System faces as the country enters an aging society. These challenges are primarily manifested in three aspects: first, the declining birth rate and the expanding elderly population lead to a widening pension fund gap and expenditure, posing severe challenges to the sustainable development of the Pension Insurance System; second, the Urban-rural disparity continues to grow, resulting in significant differences in pension benefits between urban and rural residents; third, there is an issue of internal disparity within the urban population, as a substantial number of floating population in cities find it difficult to participate in Urban Pension Insurance due to household registration issues. Similarly, many workers in China's sharing economy industry are unable to participate in Employee Pension Insurance. These three aspects present challenges for the future of China's Pension Insurance System.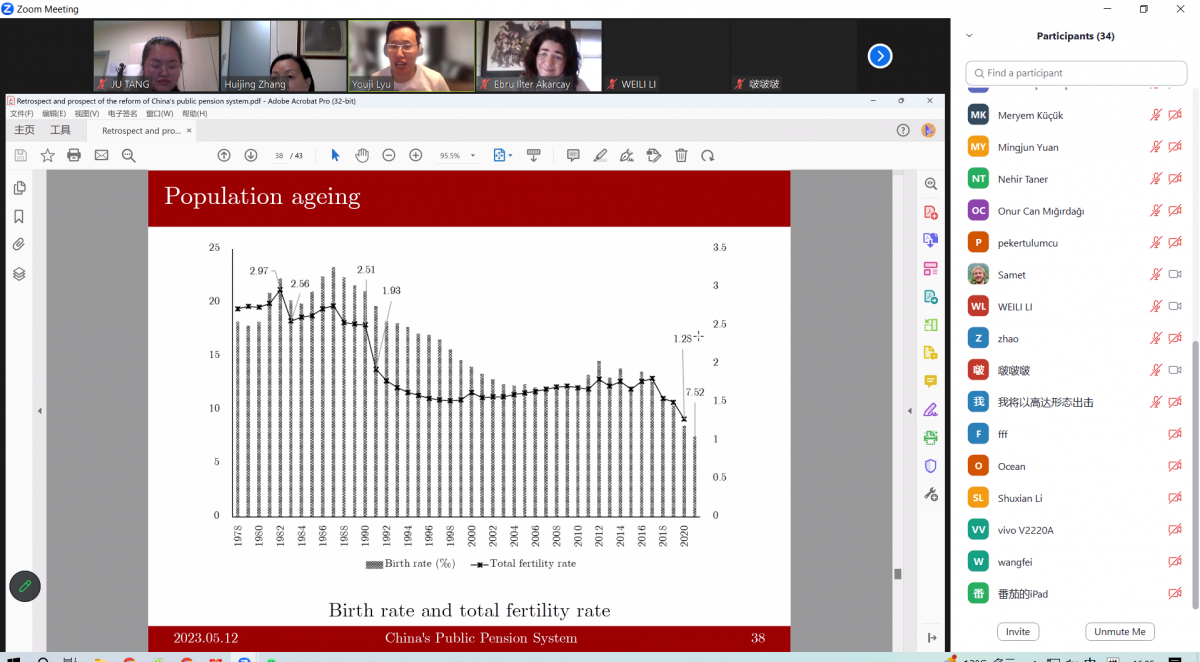 At the conclusion of the lecture, a lively discussion took place among students and faculty from Yeditepe University regarding various aspects of China's Pension Insurance System, such as sustainable development solutions for China's Pension Insurance System and the differences between the Pension Insurance Systems of China and Türkiye.
edited by Ju Tang